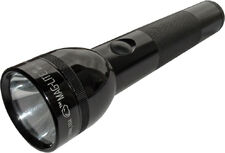 Maglite is a brand of flashlight created by Mag Instrument, Inc. of Ontario, California. The Maglite was first introduced in 1979. Encased in an aluminum alloy casing, the flashlights are renowned for their durability. This is a primary selling point of Maglite flashlights in their advertising. One Maglite commercial features a tractor-trailer truck driving over a Maglite, only for the driver to step out and find the Maglite still working.
Today, the Maglite flashlights have a large set of accessories, ranging from belt holsters to attachable fiber optics extensions. The accessories are developed and marketed both by Mag Instrument, Inc. and by third-party vendors.
Mag Instrument was founded by Anthony Maglica, a Croat.
Maglites can be bought in the following sizes which vary by the quantity and size of batteries required:
Rechargeable
2 through 6 D-cell batteries
2 through 4 C-cell batteries
2 AA cell batteries (Mini Maglite)
2 AAA cell batteries (Mini Maglite)
1 AAA cell battery (Maglite Solitaire)
External links
Edit
Ad blocker interference detected!
Wikia is a free-to-use site that makes money from advertising. We have a modified experience for viewers using ad blockers

Wikia is not accessible if you've made further modifications. Remove the custom ad blocker rule(s) and the page will load as expected.